LAS VEGAS, Nev. — If you're a betting person, there are at least a couple of things you can bank on to happen in virtually every press conference, regardless of the industry.
First, there will be buzzwords. A lot of buzzwords. Words like "process" and "development" get thrown around like candy, and they were certainly fixtures of U.S. Soccer's press conference on Thursday that was held to reintroduce Gregg Berhalter as manager of the U.S. men's national team. Second, there will be a crowd of twitchy journalists hoping to squeeze in an extra question when it's finally their turn to step up to bat and ask their best. I should know — I was one of those twitchy journalists at the team hotel in Las Vegas.
In between the buzzwords and extra questions disguised like a dog pill inside a marshmallow on Thursday afternoon, there was some very real information. Here's what we learned about what Berhalter has been doing in his time away from the team, and what he thinks needs to improve ahead of the 2026 World Cup.
---
Sitting in a row with U.S. Soccer president Cindy Parlow Cone, CEO JT Batson, and sporting director Matt Crocker, the first thing Berhalter was asked on Thursday was about Gio Reyna. The relationship between Reyna and Berhalter was strained both during and after the World Cup in incredibly public fashion.
#USMNT Gregg says the evident disappointment in the locker room after losing to the Netherlands at the World Cup is a source of motivation pic.twitter.com/U2J6oChof6

— Megan Swanick (@Meg_Swanick) June 16, 2023
"I certainly acknowledge that there's work to do," Berhalter said when asked about how to go about repairing his relationship with Reyna. "And Gio is an important player to this team. He's an extremely talented individual and I have the obligation and the commitment to coach him like I coach every other player. And I want to get the best out of them, we want to get the best out of them and we know that if we can unlock his talents, he's going to be a game changer for this program. So there's work to do and part of it is working together with Matt [Crocker] and trying to rebuild the relationship that we know will be important moving forward."
Berhalter hasn't met with Reyna after the World Cup.
"I think the most important thing for Gio right now is to focus on playing in a final and winning the final. I can imagine after that he'd want some vacation and that meeting with me is not the priority. It's for him to get rest and prepare for the upcoming season. We'll have time to do that. It is a priority, but we'll have time to do that before the September window."
Finding some sort of a working relationship with Reyna will be key for Berhalter, as will his ability to find the talented 20-year-old attacker a role where he can maximize his on-field impact.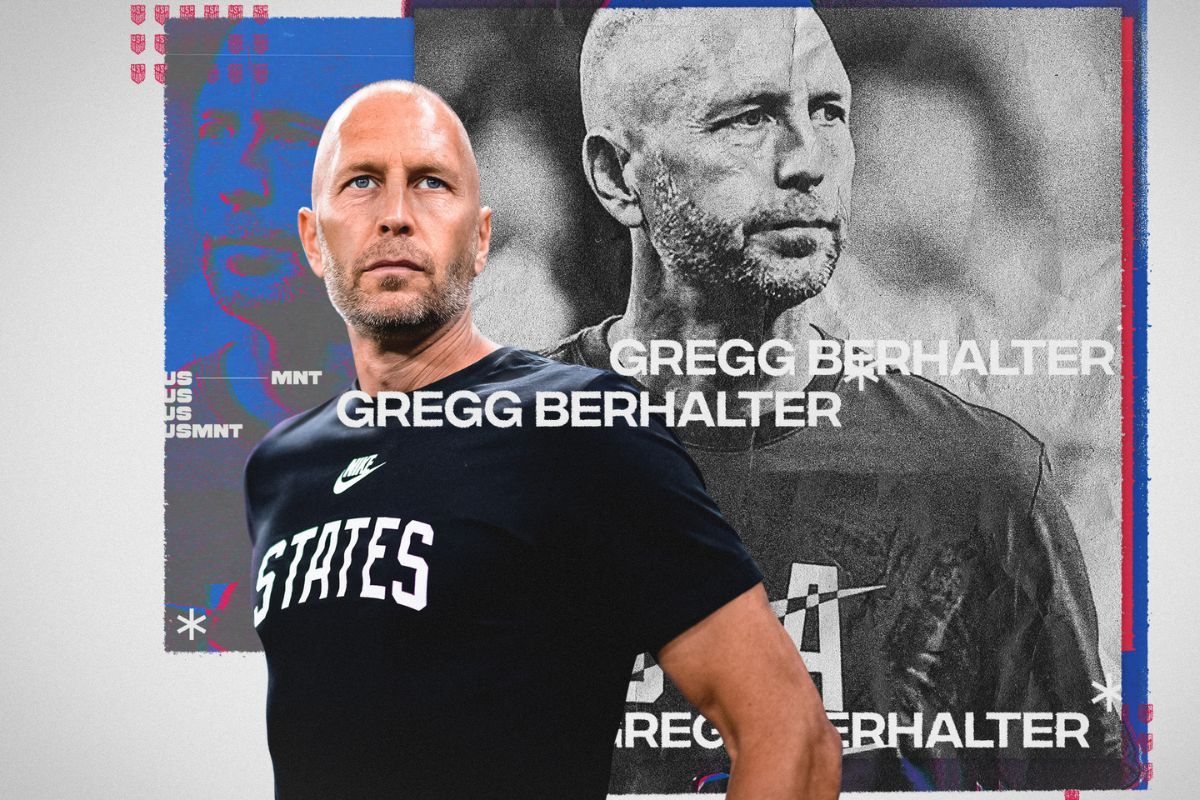 ---
After being away from the team for more than six months, Berhalter has had plenty of time to reflect.
He's traveled around Europe meeting with coaches and executives to learn more about the game. He's explored other job opportunities, including one with Liga MX giant Club America. But even on his travels and with other opportunities in front of him, Berhalter just couldn't quit the USMNT.
"I think it (Club America) was an intriguing possibility," Berhalter said on Thursday. "But one thing I told them when I got the date for this interview (for the U.S. job) is, 'I have to do this interview. I know that we have something that we're discussing, but I have to go through with this because...I would regret it the rest of my life if I never gave myself the opportunity.'"
With the chance to learn from his first cycle in charge of the United States, Berhalter will now get to address some of the shortcomings from the 2022 World Cup.
"I didn't think we're good enough on set pieces, attacking set pieces in the last World Cup," Berhalter said. "That's definitely an area of opportunity. I think offensive transition moments let us down at times in the last World Cup. Our defensive shape was excellent, the high pressure was excellent. But then when we win the ball, how can we more effectively create chances on the counter attack?"
At the World Cup under Berhalter, the U.S. finished 18th in non-penalty expected goals per 90 minutes, which didn't reflect well on the team's ability to create chances. The U.S. also finished second at the World Cup in crosses per 90, according to FBref. It's clear that there's room for the team to improve in the attack.
In addition to set pieces and attacking transition, Berhalter said that he looked "at different defensive formations" during his time away from the sidelines to improve his team's pressing ability. While so much of winning soccer games comes down to which team has more and better talent, at least some of the U.S.'s necessary improvement ahead of the 2026 World Cup on home soil must come from Berhalter — and he knows it.
---
While at the airport earlier this week, Berhalter got a call. It was from Crocker.
"Matt called me and he said, 'you're the guy'. And you know, it was a great feeling. You can imagine what the last six months have been like. You know, I started thinking of my family. I started thinking of my girls and my son and everyone. My whole family, my extended family, everyone."
Berhalter's interview process involved a series of interviews over multiple days and then a final interview that featured "close to 10 hours" of different tests, conversations, and tasks. Crocker added later that Berhalter's final assessment process involve "everything from psychometrics to abstract reasoning tests, logical thinking".
Crocker's hiring process used a data model based on pressing metrics, team age, and on-field performance, and other factors to identify candidates. He mentioned that Berhalter "pretty much set the data model" during the previous World Cup cycle, which was a curious note to add while the federation attempts to convince the public that Berhalter was the best possible candidate for the job. By using at least some of Berhalter's time with the U.S. as a measuring stick, there's little surprise that Berhalter measured up to his own stick.
Questions remain about U.S. Soccer's decision to rehire Berhalter — was there a better option out there who would've actually taken the job? How will the Reyna situation develop? Can he make the tactical changes that he knows are needed? – but his commitment to the USMNT appears to have never been stronger.
"When I took over in 2018, I was coaching kids," Berhalter said. "And to see the development of this group…it made me think about 'okay, what could the next three years look like if we continue to develop in the way that we have? What is it going to look like?' And that was exciting because you think about it, this group continues to go where we think they can go, the sky's the limit."
Comments