Let's get up to speed, shall we?
A lot has happened on the field for the U.S. women's national team over the last couple of years – and if you haven't been paying attention, there's a different cast of characters than the one you might be used to.
There are young, talented attackers who are seemingly taking on more responsibility for the United States every game. There are new faces in the midfield and across the backline. Then, there's a manager who's been tasked with bettering, or at least maintaining, a program that had won back-to-back World Cups before his appointment.
Many of the results have been positive. Others, like last year's Olympics, have been poor. And now, the team is heading into the Concacaf W Championship, a tournament that could qualify the United States for both the next World Cup and the next Olympics.
With those games, the biggest ones that the U.S. has played since last summer, right around the corner, here's your guide to the USWNT.
LOOKING BACK
The USWNT won back-to-back World Cups before current manager Vlatko Andonovski took charge of the team in October, 2019. Andonovski, who moved from coaching in the National Women's Soccer League to leading one of the most dominant and decorated teams of all time, has managed the USWNT for almost three years now.
Towards the beginning of Andonovski's tenure, the United States won a bunch of games and a pair of tournaments before heading to the 2020 Olympics in, uh, 2021. The U.S. lost their first game of the group stage at the Olympics to Sweden, snapping a 44-game unbeaten streak in the process. They advanced out of their group before losing to Canada in the semifinals and heading back to the U.S. with a bronze medal.
On the whole, the Tokyo Olympics was a frustrating tournament for the United States: Andonovski made the decision to hold off on integrating the next generation until after the Olympics in favor of filling his roster with experienced players. But that age and experience didn't propel the U.S. to victory in Tokyo. Instead, they struggled to truly dominate key games and underwhelmed in possession.
Since the Olympics, though, the U.S. has yet to lose a game. The competition level hasn't been all that high, but going almost an entire year without losing is a notable achievement.
That brings us to today. The USWNT is winning games. The U.S. almost always wins games, it seems. They're also in the midst of a generational shift  in certain parts of the field and their depth chart has changed with some exciting names entering the fold.
POTENTIAL STARTING XI, GETTING YOUNGER
Speaking of exciting names, this is a younger U.S. team than the one that went off to Japan last summer. It's not a crazy young team, but there are eight players on the W Championship roster who are 25 or younger. Three of those players – Ashley Sanchez, Mallory Pugh, and Sophia Smith – are set to play big roles in the attack for the United States.
"It's awesome. I think it's a very fresh energy," Smith, 21, told Backheeled earlier this week. "[There are] people who are very, very excited to be in camp and to be able to represent the country and just to get to play with each other and build that chemistry…It's just a fun, light energy," Smith added later.
We had a full U.S. depth chart and some detailed player analysis for the United States drop on the site yesterday: you can check out all of that right here. In the meantime, here's a look at the U.S.'s potential full-strength starting lineup attacking from left to right.
TACTICS
"We attack without the ball."
That was the phrase Vlatko Andonovski used when I asked him to detail his team's defensive philosophy. It's a saying that the United States' coaching staff and players use to remind themselves of their tactical identity.
"We don't defend for our lives. We don't defend our goal. We attack," Andonovski said. "That's the mentality that we have. We do want to get in people's faces, we don't want to allow them to think and have time to think."
"Those are the kinds of things that we celebrate," Smith told Backheeled while talking about high pressing and counter pressing. "Those are small things that we celebrate because those, at the end of the day, make a huge difference in the game."
When you watch the United States play, that aggressive, in-your-face approach is one of the first things that jumps out. Most often playing out of a 4-3-3 shape, they come at opposing teams in waves, with forwards who get in your grill before taking the ball and driving it right through the heart of the defense.
"It's the culture of this team," Andonovski said when talking about the United States' aggressive approach.
You can see the U.S.'s 4-3-3 pressing structure right here.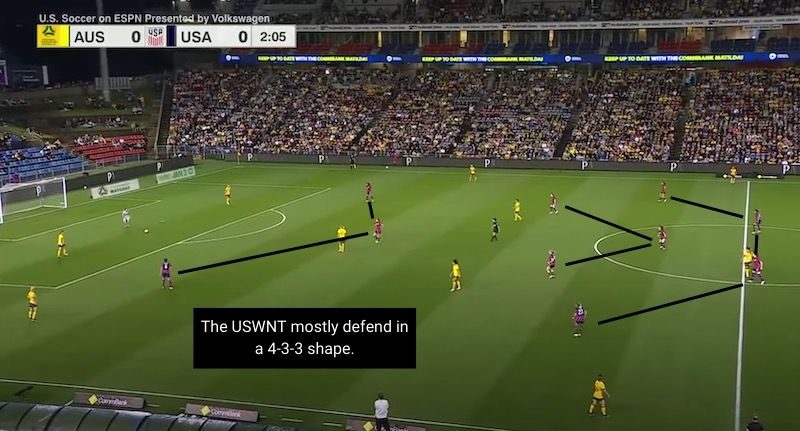 Because the U.S. presses so aggressively (and because many of their opponents are at a severe talent disadvantage), many teams bypass their press by playing long balls. Still, even when the USWNT can't press high, they love to get out in transition by counter pressing or by capitalizing on sloppy turnovers from their opponents.
With Smith and Pugh on the wings and a combination of Lavelle, Horan, and Sanchez feeding them from midfield, the U.S. is made to attack on the break. That's one thing that stands out about this young core of American attackers: they're deadly in the open field. I mean, this is just terrifying stuff from the USWNT from start to finish.
"We have players who are fit, who are able to run, players who want to press…We want to win the ball higher up because if you win it higher up, you're closer to goal," Smith told Backheeled.
As soon as there's a turnover, at least two-thirds of the forward line immediately run in behind. Much of the time, those transition moments and those off-ball runs lead to goals.
"Players like myself and Mal [Pugh] and Trinity [Rodman]…want to get in behind, use our speed, and go at players," Smith said.
Opposing defenders beware.
POSSESSION ISSUES
Now, for as dangerous as the U.S. can be in transition, there are some questions about their ability to break down an organized defensive block – and the U.S. faces a lot of low blocks. Why? Because teams are terrified of them in the open field.
The USWNT can and will cruise by teams that cough up the ball in bad spots, even if those teams defend deep for most of the game (see: U.S. 3-0 Colombia on June 25, where Colombia only had 27.5% possession but still gave up 4.72 xG per Tony Maza and Stats Perform). But when a team comes out in a sturdy defensive shape? Well, that's a bit of a problem for the United States.
Both before, during, and after last summer's Olympics, the USWNT has struggled to create chances in possession at an appropriate rate relative to their talent level. Instead of using quick ball movement to get into the box and create chances, the U.S. often forces balls into the box via crosses.
In a game against Canada in early 2021, the U.S. crossed the ball 42 times while trying to break down Canada's block. In that game – and in other stretches over the last few years – runners flooded the middle of the box to wait for a cross rather than moving into the outer channels of the 18 to receive a pass and then cut the ball back. You can see that tendency in this clip.
I recently asked Andonovski about his approach to breaking down a low block. This is what he said:
"Breaking down a low block is not a secret. There are six, seven, eight steps that teams take. Now it comes down to the execution of those steps, whether it's progression in the wide channel, combination in front of the box, runs behind the backline, early crosses, crosses on the side or crosses from the halfspace."
All of that sounds good. Attacking teams really do use those steps to create chances against a compact defense. But the key part of that quote is the bit about execution. The U.S. can create chances, score goals, and make opposing teams miserable. However, when they're not executing steps other than those various kinds of crosses, the USWNT ends up looking relatively tame and one-dimensional in possession.
Again, it's not that the U.S. can't create chances in possession. With all of their attacking talent, they will find some good looks over the course of a 90-minute game. This is about raising the bar in possession for this team – and raising their overall ceiling at the same time. Now, U.S. players understand how to rotate in possession to find space and create both space and chances for their teammates. I asked Smith about how she knows when and where to move on the right side when her team has the ball.
"We always like to think in opposite movements. So if someone's inside and there's space outside, you just fill in the spaces…Then adjust and get open and just make sure that we're not occupying the same space and doing the same job because that's like playing with one less player on the field."
That's a great, insightful answer from an extremely talented young player. Don't occupy the same space.
At this point for the USWNT, though, the question is how well they can turn their head knowledge of possession principles into chances when teams won't let them attack in transition. Poor possession play killed the United States' chances of taking home the gold medal at the last Olympics. Over the next few weeks, we'll see if they can use the ball more precisely in the most important set of games they've played since Tokyo.
On to qualifying.
Comments