The first third of the 2023 NWSL regular season is behind us, and things are really starting to heat up. We've had lots of movement up and down the table through Week 8, and it's time to take stock of each team's performance at this point in the season.
Let's zoom out to look at one takeaway for each team from the first chunk of 2023 in order of the current NWSL standings!
NJ/NY Gotham FC have climbed over 2022's bar
Gotham's killing it in 2023, even if the bar from last year was basically underground. In 2022, Gotham won four of their 22 games and scored a measly 16 goals. They spent six consecutive weeks at the bottom of the standings to end their nightmare of a season. After one-third of the 2023 season, there's no doubt that Gotham got tired of losing.
Through the first eight games of 2023, Gotham have already won more games than last season (5).
They've also nearly matched their 2022 goal tally, putting away 11 goals so far. Lynn Williams, who is proving to be the most valuable offseason acquisition of the year, has already scored more goals than anyone else on Gotham's 2022 roster. If that's not enough, Gotham are at the top of the table for the first time since the 2013 season.
Portland Thorns' attack is historically good
Portland has the best offense in the NWSL – we knew that in 2022 when they scored 49 goals in 22 games, which came out to 2.2 goals per game for the eventual NWSL Champions. So far in 2023, Portland is averaging 2.75 goals per game. Their 22 goals in eight games is seven more than the closest team and five more than any other team through eight games in all seasons of the NWSL's existence.
Crystal Dunn and Sophia Smith are leading the league in goals and assists, respectively, with five each, but this attack is truly a team effort. While some teams haven't even scored 11 goals yet this season, 11 unique Portland players have notched a goal for the Thorns with eight different players collecting an assist.
San Diego Wave FC rely too heavily on Alex Morgan
Through eight games of 2023, Alex Morgan is already leading the Wave in goals (5). Morgan is also leading the team in xG, non-penalty xG, assists, shots, and shots on target this season. This isn't all that unexpected in the context of last season, when Morgan's golden-boot winning 15 goals carried the team to the playoffs, but it's a big red flag with the World Cup coming up this summer.
Since Morgan's been the key to San Diego's offensive success since their inception, it's just hard to imagine how – and if – the Wave's attack will survive without Morgan while she's off with the U.S. women's national team.  
Washington Spirit are the model of consistency
The Spirit were the last team to lose this year. They started the season unbeaten through seven games before falling in Week 8 to a red-hot Orlando Pride. Much of this continued success can be chalked up to their key attacking trio of Ashley Hatch, Trinity Rodman, and Ashley Sanchez. Since 2021, those three players have scored more goals than any other trio of teammates in the NWSL.
The consistency in the Spirit's performances and results is mirrored by the consistency in their personnel: they've used the fewest number of players per game on average and their substitutes play the fewest minutes on average across the league (15 mins/sub). Anchoring this team is center back Sam Staab, who has been in the Spirit's starting XI for 76 straight games. Though Washington are likely to lose at least four of their starters to the World Cup, Staab will continue to be the Spirit's backbone through the next third of the season.
OL Reign like to share
Despite their embarrassing 4-1 loss at home to NJ/NY in Week 8, the Reign's attack has been producing at a higher rate this season compared to last.
They're scoring goals at a 1.63 goals per game clip, which is outshining their 1.45 goals per game average from their NWSL Shield-winning season. They're also doing a good job of sharing their attacking responsibilities. The Reign have recorded the second-most assists in the league (9), only behind the Portland Thorns. Their 12 goals have been scored by six different people, and eight players have recorded at least one assist.
The most impressive part of all of this is the Reign have been able to produce in the attacking third without Rose Lavelle, who has only appeared in two games so far this season due to injury.
North Carolina Courage have solidified their new identity
After an offseason that saw the Courage lose players who accounted for over 44% of their 2022 regular season minutes and sign all four of their draft picks, there were tons of questions about how North Carolina would play in 2023.
Well, so far we've learned that the days of the Courage's direct play are behind them. In one word, their new game plan revolves around possession. Their 58.1% possession mark leads the league by nearly 5%. Unfortunately for the Courage, they have been struggling to turn their possession into goals. They've scored just seven goals in eight games, which is second-fewest in the league.
Racing Louisville is really Savannah DeMelo FC
After the first two games of the year, I wrote about how Savannah DeMelo is essential for Racing's success. Now after the first eight games of the year, that even sounds like an understatement.
DeMelo leads Racing in touches in the attacking third and penalty area, and she's successfully dribbled past more players than any of her teammates. She's also scored three goals and added two assists in the regular season, and she's scored both Challenge Cup goals for Louisville so far this season. Some of these goals have been absolute all-timers, including this wild outside of the foot strike that started Racing's comeback victory in the Challenge Cup.
Orlando Pride are improving
It's taken some time, but Orlando have finally found their footing. Despite starting the season bleeding goals, the Pride have tightened things up defensively. They've steadily improved the number of goals they're conceding per game, and have gotten their xGA under control, too.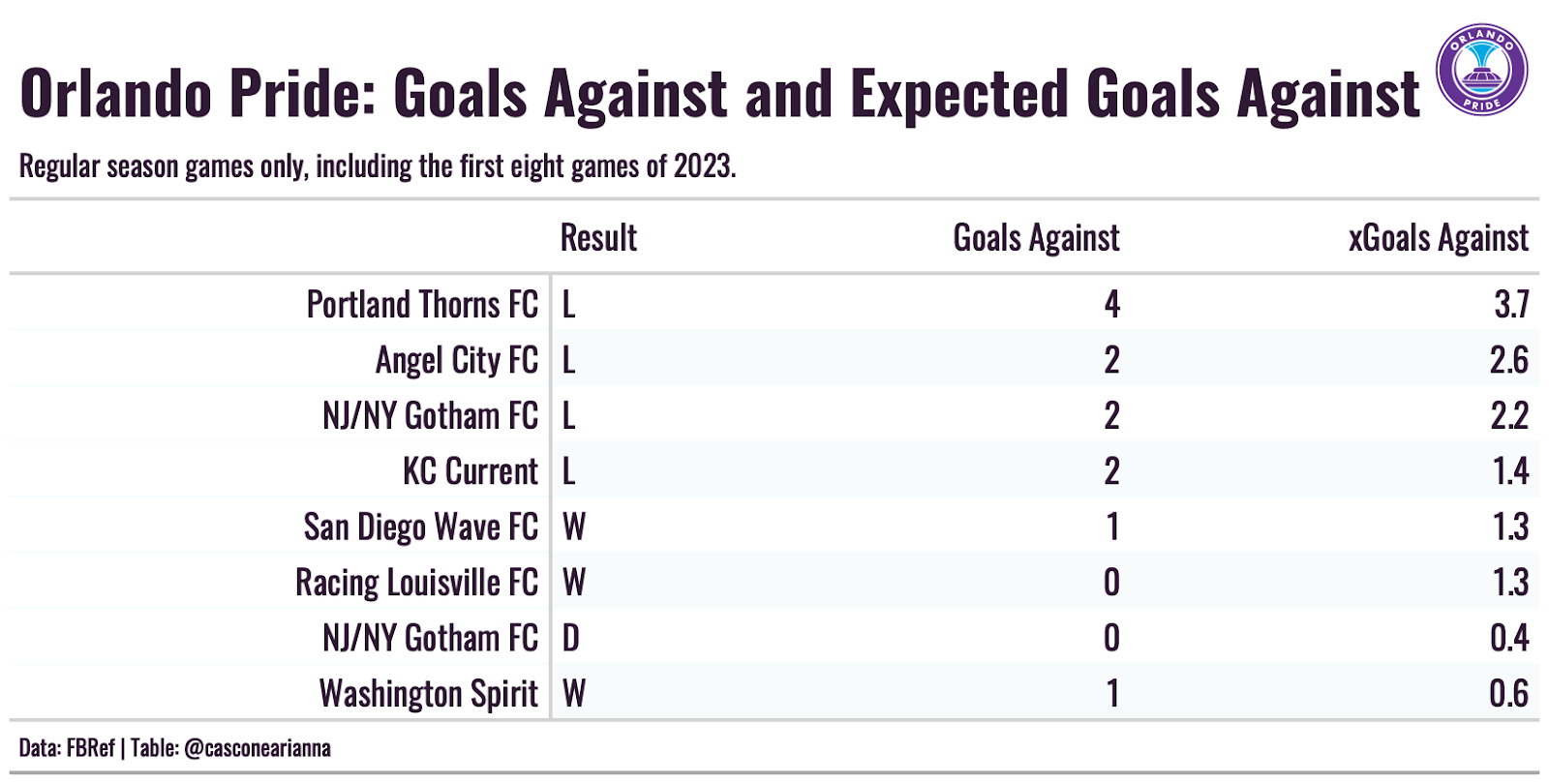 Some of this defensive improvement is likely related to head coach Seb Hines finding his starting goalkeeper and center backs. After rotating through the most goalkeepers in the league (3), the Pride finally landed on Anna Moorhouse, who has been the second-best shot-stopper in the NWSL after a very rocky start to the season. Rookie Emily Madril started the year paired with second-year Caitlin Cosme, but NWSL mainstay Megan Montefusco has since taken over for Cosme and helped hold it down for the Pride.
Angel City FC struggle to compete for 90 minutes
Angel City are hot and cold this season.
They've been playing games that are made up of two completely different halves. While their 11 goals have been spread pretty equally in both halves, with six coming in the first period, they're conceding significantly more goals in the second 45 minutes. Through the first eight games of the season, Angel City have conceded 10 of their 13 goals in the second half. Two of those have even come after the 90-minute mark. All this to say, the Angels are consistently dropping points late in games and they'll have to find a way to stop that before they slide too far down the table.
Houston Dash's attack is in big trouble
The Dash have only managed to find the back of the net five times, and they've only done so in three games. That means Houston have been shut out as many times as they've scored to start the season.
This is one of 2023's biggest shocks, considering the Dash acquired Diana Ordóñez in the offseason that followed her record-breaking rookie year. There's no reason a front line of Ordóñez, Ebony Salmon, and María Sanchez should be struggling this much in the attacking third. It's worth mentioning that their five goals have come on 8.5 xG, so they are technically underperforming their attacking generation. Regardless, that 8.5 xG is third-worst in the league, and Sam Laity and the Dash need to figure things out ASAP.
KC Current need a better goalkeeper
Regardless of who's in net for KC, it's been a mess between the sticks. The Current's eight games have seen four appearances each for Cassie Miller and AD Franch, and they're both struggling.
Franch is tied with Chicago's Alyssa Naeher for most goals conceded per 90 this season (2.75), but she's played four fewer 90s. Her abysmal 56.5% save percentage is worst in the league, and the Current haven't won a single game when she's been in net. Miller's save percentage ranks in the bottom three of all goalkeepers (61.5%), but she's about average in terms of goals conceded per 90' (1.25). To top all of this off, the Current's +2.8 xGD is actually fourth in the league, but their actual -7 GD is only better than Chicago's.
They'd be much better off if their goalkeeper could actually stop shots.
Chicago Red Stars are down bad
…they've allowed a whopping 22 goals on 17.1 xG through eight games, which is the most in the league.
Chicago's lone win of the season came against a Kansas City team that is also severely underperforming, but since then the Red Stars have allowed 15 goals and have been shut out twice. It's not even like the Red Stars put up a fight: this team has conceded five goals in the first 15 minutes of matches this season. Chicago is in dire need of a coaching change at this point, because their roster is not this bad on paper, even without Mallory Swanson.
To add insult to injury, Chicago's fan base is clearly tired of losing, too. They're averaging the worst attendance so far this season at roughly 2,800 fans per game.
All data courtesy of FBRef.
Comments