Cavan Sullivan woke up at 4 AM.
"Tomorrow he gets up at 3:30," Brendan Sullivan, Cavan's father, began to explain. "So it's like –". Before Brendan can finish, Cavan's mother, Heike, interjected with laughter at the absurd idea of a 13-year-old willingly waking up before the crack of dawn.
It's not quite the Kobe Bryant routine, but Cavan is just a kid. He's sitting right here at the dining table, a skinny teenager enjoying a pizza dinner with his parents and his three older brothers: 19 year-old Philadelphia Union and United States U-20 forward Quinn, and the 15-year old twins, Ronan and Declan. It's an ordinary scene.
The next day Cavan will fly to Spain for a U.S. U-15 national team camp. Since early Monday morning, Brendan has been preparing him to shine when he wears the crest. Cavan sleeps in the same room as the twins, but not this week. "So all week, we keep going back a half an hour. And we tell him it's just a half an hour, but we're trying to get him acclimated to Spain time so he hits the ground running."
Sure enough, on his youth international debut, Cavan would score both American goals in their Pinatar SuperCup opener against England, a 2-2 draw which the U.S. won on penalties.
Cavan, like his family, isn't exactly ordinary. And now they're stepping into the American soccer spotlight.
"It's a great family. They're great people. Honest, loyal, all those things. They've raised four boys that are all special players. Everybody first talked about Quinn, but Ronan and Declan are also great young players as well that can play at a very, very high level. And Cavan's doing some special things too at the youth level," Union head coach Jim Curtin told Backheeled in a separate conversation. "It's always tricky because, naturally, like formerly with the Aaronsons, everybody wants to compare and contrast who does what better than who, but all four of them are unique and bring different skill sets in the game. Brendan and Heike have done an amazing job raising four great kids first and foremost, which is always the most important thing."
The Philly soccer heritage
Brendan Sullivan grew up in the same house his mother Kathleen did, in the northern Philadelphia working class neighborhood of Juniata Park. She was one of five children, and Brendan's father, Larry, is one of 9. Larry, like all of his brothers, played soccer, although baseball was initially his primary sport. The disciplinarian at his Catholic school, a priest who was also their neighbor, pushed Larry towards soccer in the fall to keep him occupied and out of trouble. However, soccer later became his priority.
"It was his second sport. He went to Vietnam, was shot in Vietnam, lost the use of three fingers in his left hand – he was a lefty – so his baseball career was done. Defaulted to soccer, and just threw himself into it full time," Brendan said.
Jim Curtin and Larry go way back.
"He was my [Eastern Pennsylvania] state team coach when I was 15, 16 years old, and we had a really, really strong group. About five or six guys that went on to play in MLS eventually, and we didn't lose at all. And I really had a connection with Larry as a person, and as a coach. Larry was an ex-Marine and was tough on his players, but he was fair. So I decided to take the plunge and go to Villanova," Curtin said. Larry was the head coach of the Villanova men's soccer team from 1991-2007, coaching Curtin among countless others. "He's a friend forever, a great person and mentor I learned so much from."
Brendan not only inherited a passion for the sport from his father, but was immersed in it.
"I grew up in a soccer neighborhood where everybody played soccer, which was odd in the early 80s. In these small pockets of immigrants, you get it, and so Scotch, Irish, German, Italian, Irish, Polish folks all lived in a three neighborhood cluster. Port Richmond, Bridesburg, Fishtown, Kensington, Juniata, all immigrants and so soccer was big there."
Larry coached Brendan at F.C. Bayern, a German club in Philadelphia. After graduating from local high school St. Joe's Prep, Brendan attended Columbia University for two years then transferred to the University of Pennsylvania. That was where he met Heike, between sophomore and junior year.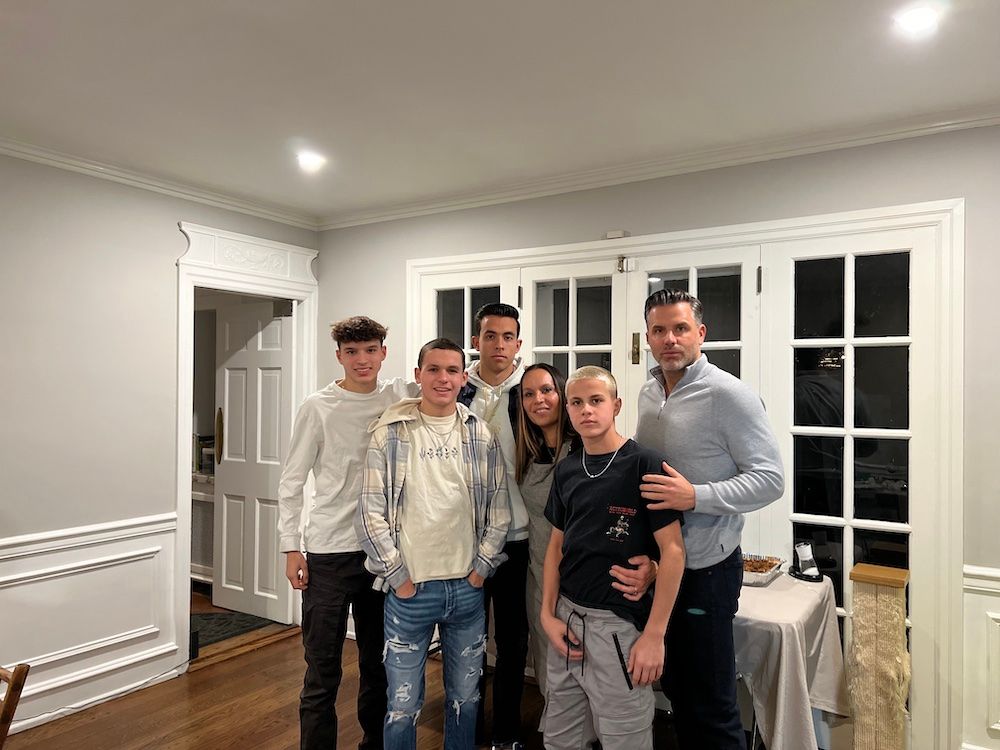 Heike is a first generation American. Her mother, Sultana, is Bangladeshi and her father, the late, legendary UPenn professor Klaus Krippendorff, was German. Heike's introduction to soccer starkly contrasts with her husband's.
"My family don't play sports. My mom moved to Africa when I was a sophomore in high school – she worked for the UN – so I had to go to boarding school, and you have to play sports, and I started to play soccer," Heike recalled. "So I didn't start playing till I was 15, and then it became like my love. I played in college and then I played after college for like 12 years."
Brendan played professionally for five years in the A-League (which was eventually rebranded to the USL First Division), including stints with the Boston Bulldogs and Long Island Roughriders, and then the couple settled down in Philadelphia. Today, almost the entire extended family lives in the area. A notable exception is Brendan's cousin, former USMNT defender and current FC Cincinnati general manager Chris Albright.
"Brendan's family is massive. Brendan is one of like 27 first cousins. And then there are fifty five plus [people] of this generation," Heike said, referring to her boys.
"But we're super tight. We always see each other," Brendan said.
"We're a very close family. 80% of my friends are his cousins," Heike said. "Quinn is one of the oldest of the fifty five [in the next generation]."
"I'm the favorite cousin," Quinn joked. He's always embraced his role as the older cousin and sibling, and his parents are grateful for it.