The number of managers born in the U.S. who have coached in a first division European men's league is incredibly small.
There's Bob Bradley, who coached in both England and Norway's top flight. There's Jesse Marsch, who coached at the top of the soccer pyramid in Austria, Germany, and England. There's Pellegrino Matarazzo, who is currently coaching Hoffenheim in the German Bundesliga. If we're being generous, Chris Armas served as an interim manager in the English Premier League, too.
Those are the names you know. And then there's the one you don't.
Meet Brian Clarhaut, a 37-year-old coach from New Jersey whose soccer journey has taken him from the college ranks, to Sweden's first division, and now to El Paso Locomotive in the USL Championship.
---
When you sit down and talk with Clarhaut, one thing becomes very clear, very quickly: he loves soccer.
He doesn't love soccer in the way that you love eating your favorite meal or watching your favorite show. No, he loves soccer like you love your spouse or your best friend. During our conversation over Zoom, Clarhaut, unprompted, started sharing his screen to pull up a tactical diagram that illustrated some of his team's attacking principles. He's written a short textbook's worth of content on his tactical philosophy and style of play.
He's in love with soccer — and it's that desire for the game that's taken him on a truly rare journey for an American coach.
Originally from New Jersey, Clarhaut realized early on that he "wasn't good enough to make it as a top professional" as a player. He played college soccer in New Jersey, but after his playing days were over, he still wanted to stay involved in the sport.
"I was always a bit of a student of the game, watching tons and tons of football nonstop," Clarhaut told Backheeled. "Then it just got to a point, okay, what type of opportunity, how am I gonna break through within this?"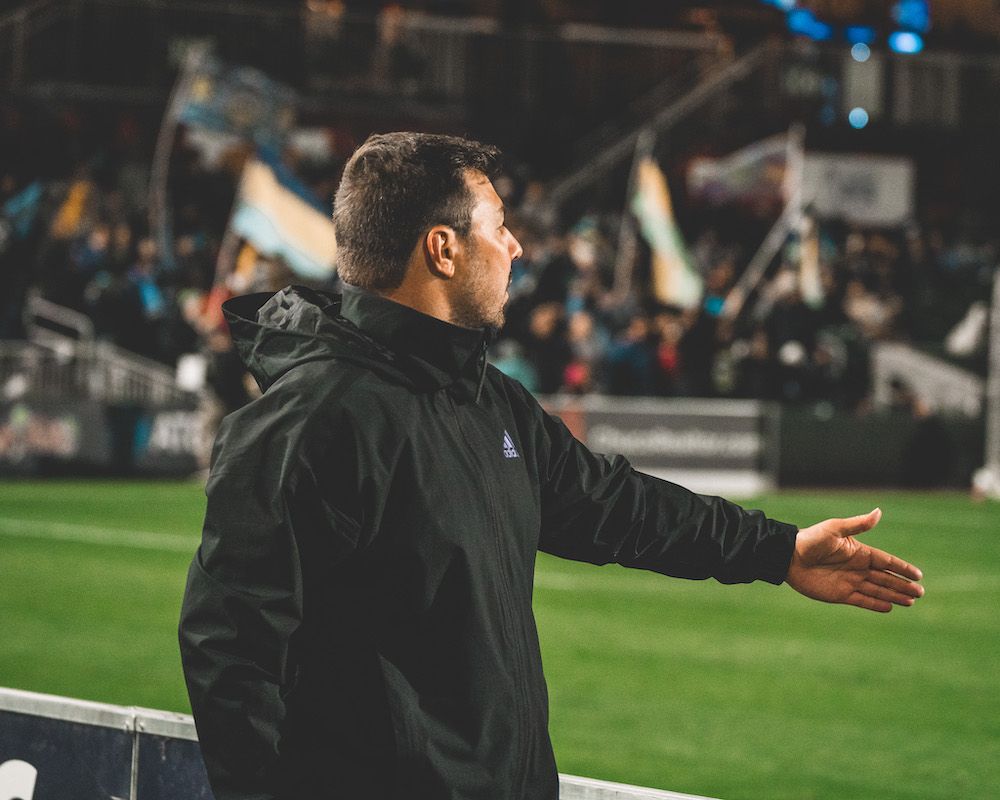 The first breakthrough wasn't a glamorous one. In 2010, he started coaching at the Stevens Institute of Technology, a small, private research school in Hoboken, New Jersey. But then he started to move up, taking a job on the coaching staff at the University of Connecticut, and then a job as the first assistant at Temple University.
With college soccer playing a prominent role in the U.S. as the professional game crept forward in the early 2010s, Clarhaut felt his career was moving along nicely.
"At that time, that was when Caleb Porter was very big at University of Akron. That was a guy that when I was in the college soccer world, that was kind of in the back of my mind that, okay, 'I'm gonna be the next Caleb Porter.' I'm gonna go to a team to dominate, and I'm going to move up," Clarhaut said. "So I've always had high aspirations or thought highly of myself, especially as a younger coach."
Porter, who coached several seasons at the University of Akron before coaching the U.S. U-23s and landing in MLS, was the model. Clarhaut's plan, then, was to move up the college coaching ranks, earn opportunities from professional teams in the United States, and continue to advance from there.
But things took an unexpected turn.